Finding the right sewing machine doesn't have to be a headache inducing experience. With a bit of information and know-how, you will be armed with the knowledge you need to make an informed choice that is right for your needs and budget.
In this buying guide, we will break down the top brands and models available on the market, and provide some tips and considerations that may make choosing the right machine a lot easier.
We will then briefly review 10 best selling, high-quality models that cover a range of prices and functionality.
---
The Best Sewing Machines to Buy
---
Comparison Chart
Model

Price

Built In Stitches

Stitches Per Minute

Foot Controller

Auto Threader

My Rating

Singer 4423

*Editors Choice*

See Today's Price

23

1,100

Yes

Yes

5 out of 5

Brother cs6000i

See Today's Price

60

850

No

Yes

5 out of 5

Singer 4411

11

1,100

Yes

Yes

4.5 out of 5

​​​​​Brother XR9500PRW

100

850

Yes

No

4. 5 out of 5

Singe​​​​r 4432

32

1,100

Yes

Yes

4.5 out of 5

Brother HC1850

130

850

Yes

Yes

4.5 out of 5

Singer 9960

600

850

Yes

Yes

4. 5 out of 5

Brother XM2701

27

800

Yes

Yes

4 out of 5

Singer 7258

100

750

Yes

Yes

4 out of 5

Brother XM1010

10

750

Yes

No

3.5 out of 5
Types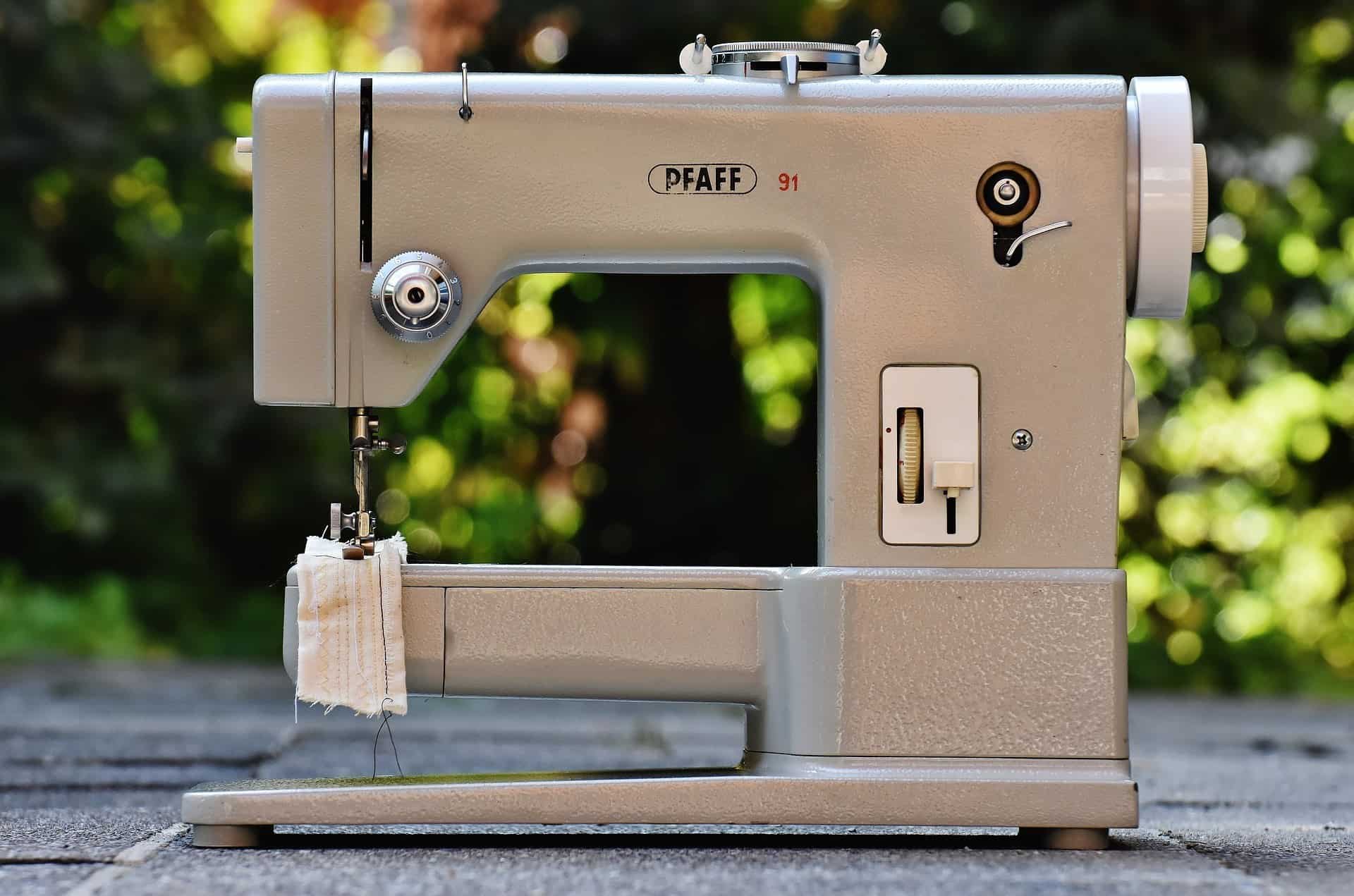 If you are brand new to sewing, you may not be aware of just how many types of machines are available.
What follows is not a complete list of the various types of machines, but these are the most common choices for home and personal use.
Automatic (Electric) Sewing Machine
Chances are, when you think of a sewing machine, you picture the most common type – an electric model.  One of the most popular and versatile, the electric machine is used by most people who work on sewing projects today.
Sewing machines usually utilize a single motor to power the needle and feed dogs of the machine. Often, the speed of the needle is determined by the pressure that the user places on the foot pedal. The harder you press down on the foot pedal, the faster the machine sews. The pieces of fabric to be sewn feed through with a presser foot that holds them tight while the needle goes up and down. Fabric is guided through the presser foot with both hands.
Most automatic machines will have dials or display panels that allow you to choose basic sewing parameters. Stitch type and length are the most common things that sewers want to adjust.  Most machines generally come with a good selection of specialty stitches in addition to the typical forward, reverse and zig-zag.
Some machines even offer more advanced options like enhanced thread tension settings, automatic thread cutting, or automatic buttonhole stitching.
Electric sewing machines are good all-purpose models that can be used for a variety of different types of fabrics and projects. Most machines today offer a broad range of stitch types that meet most home sewer's needs.
Quilting Sewing Machines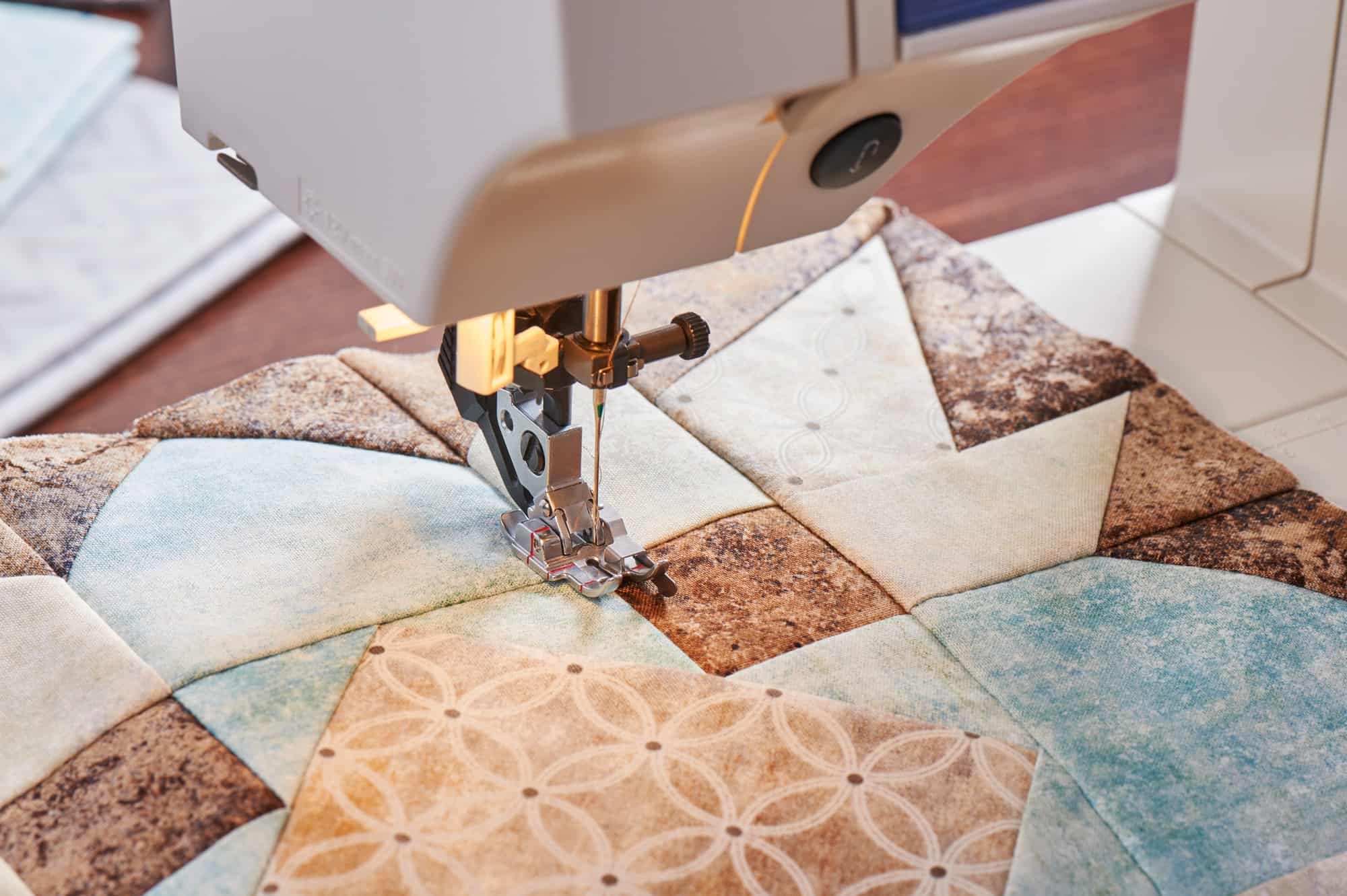 Quilting requires a different set of features. Traditionally, a long arm machine was the way to sew a quilt. The problem is that long arm machines are expensive, large, and a bit unwieldy.
This led to the development of a more standard size that was designed specifically for making quilts. They are heavy duty that can handle thick and multiple layers of fabric that quilters work with.
Even the most basic models can sew together the 4-6″ blocks that are found in many pieced quilts. These blocks are then layered, basted and sewn together. In some models, attachable walking feet are included that help to move the fabric smoothly through the presser foot and needle which reduces fabric shifting and bunching.
When fabric doesn't move easily, this can negatively affect the final result and may even cause the needle to snap off due to pressure from the bulk of the quilt.
We put together a full buying guide to help you find the perfect quilting sewing machine here if you are in the market.
Free Arm Machine
Like a regular sewing machine, a free arm machine is comprised of a shuttle feed, free dog, and bobbin.
With this type of machine, the sewing surface is rounded and open at the bottom.  This allows for a pant cuff or shirt collar to be slipped over the end of the machine while the seam to be sewn is passing under the presser foot. Pant and shirt cuffs alterations and small craft projects are examples of just some of the things that sewers find a free arm machine indispensable for.
A free arm machine is typically portable, meaning it does not come installed on a stand or table. You mount it to the surface of your choosing. Many quality computerized machines come with a free arm as well.
Computerized Sewing Machines
Computerized sewing machines are more advanced and come lots of functions and a variety of user options. These are typically not recommended for beginners, as they have many options and selection settings that can be overwhelming for someone just starting out.
A computerized model, as the name implies, uses a computer for a wider range of settings and options.
These machines often have a large LCD or touchscreen for their interface. From here, you select your preferences and design parameters. A lot of computerized machines have memory which allows you to store the settings for several different projects at once.
Computerized machines have a lot of automatic functions and some can even do embroidery or other specialized stitches.
Most of them have USB ports which allow the users to download new patterns and add them to their machines.
Computerized machines come with an extensive stitch library and are suitable for use on a broad range of materials.  They are very versatile and can handle a lot of different types of projects.
Embroidery Sewing Machines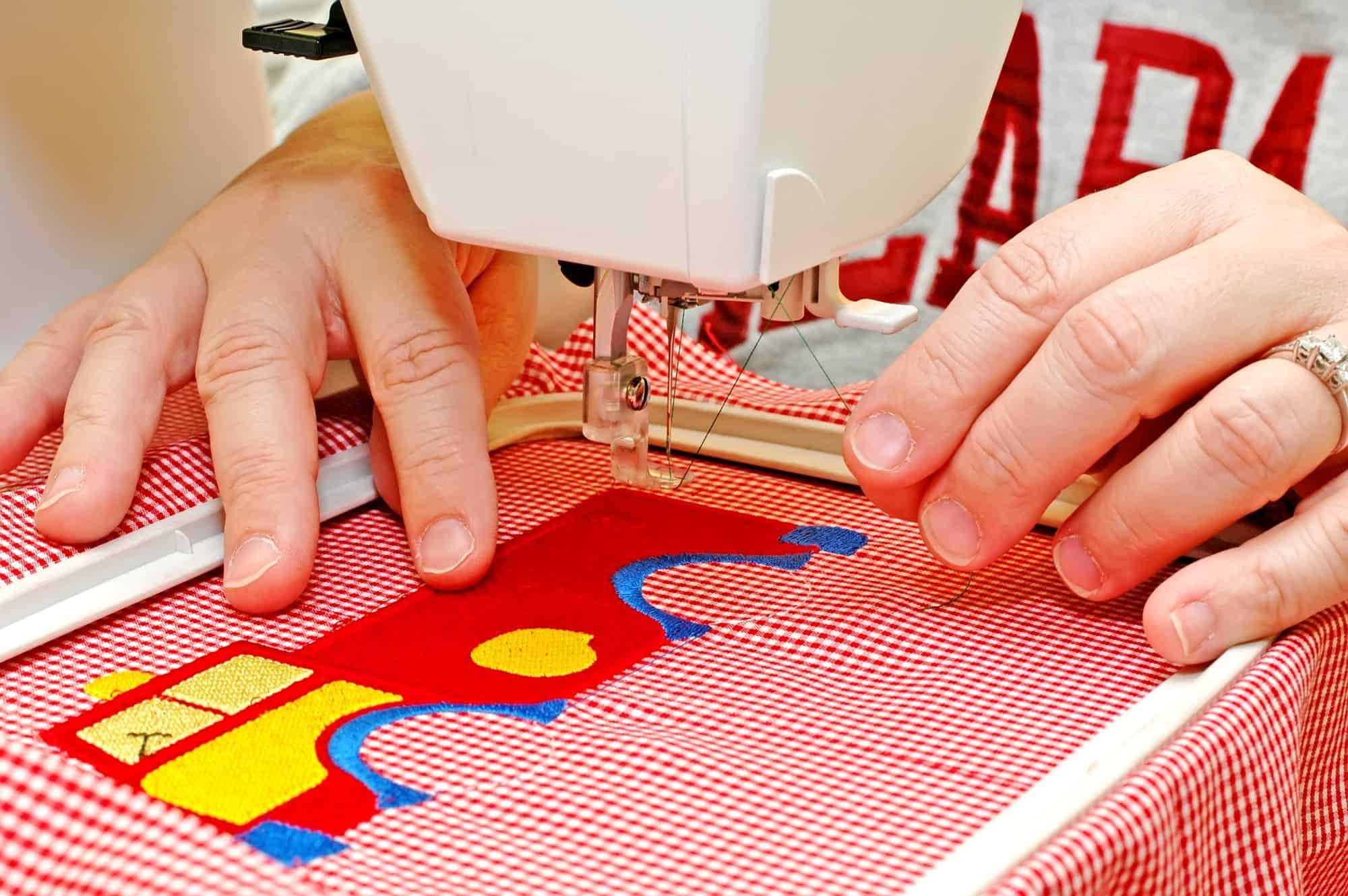 While we have mostly discussed and described more general or all-purpose sewing machines, some are designed for a very specific function. These machines are not intended for general sewing and often come with a hefty price tag.
An embroidery machine is one that is designed especially for making the complex and specialized stitches that comprise embroidery.
These machines are designed for the sole purpose of embroidery, so they include a specialized stitch library that contains all the main stitch types used in most projects.
They often have a lot of auto features, such as tension, which makes it easy to keep your thread appropriately taunt.
Most embroidery machines have a USB interface to allow for personalized design creation. Many have a design software suite that comes with all the tools you need to create your own unique designs.
Many of these machines have an LCD or touchscreen interface which makes option and setting selection as simple as using a smartphone.
You can see my embroidery sewing ​​machine top picks on this page.
Prices
Of course, one of the biggest questions and factors of choosing the right sewing machine is the cost. Looking for a general price range can be difficult and the answer to the question of "How much, on average, should it cost?" is often, it depends.
That's a frustrating, but honest answer. Sewing machine is a generic term that encompasses many different types of machines. These machines offer different types of interfaces, versatility, and functionality – as discussed above.
This means that, just as the types and features vary widely, so too does the price. There are affordable, but scaled down models that you can pick up for beginner, and at the same time, there are sophisticated, advanced machines for expert sewers that can cost thousands of dollars.
Features and functionality will be the biggest determining factors as to the ultimate price of the machine. A good rule of thumb is the more you want to do with the machine and the more control you want to have, the more the machine will cost.
A beginner or kids sewing machine certainly does not need to have as many options that it becomes confusing. On the other hand, an expert sewer is going to need something better than a budget conscious buyer.
Keep your intended use in mind as this will help you narrow down your price range.
If you want a digital or touchscreen interface, or personalized design options, expect to pay more. These options give you more control and make it easier to create unique designs.
Another factor is type of fabric you plan to sew most. Complexity and versatility will add to the cost of the machine, but it also adds to the value as well.
10 Questions To Help You Choose The Right Sewing Machine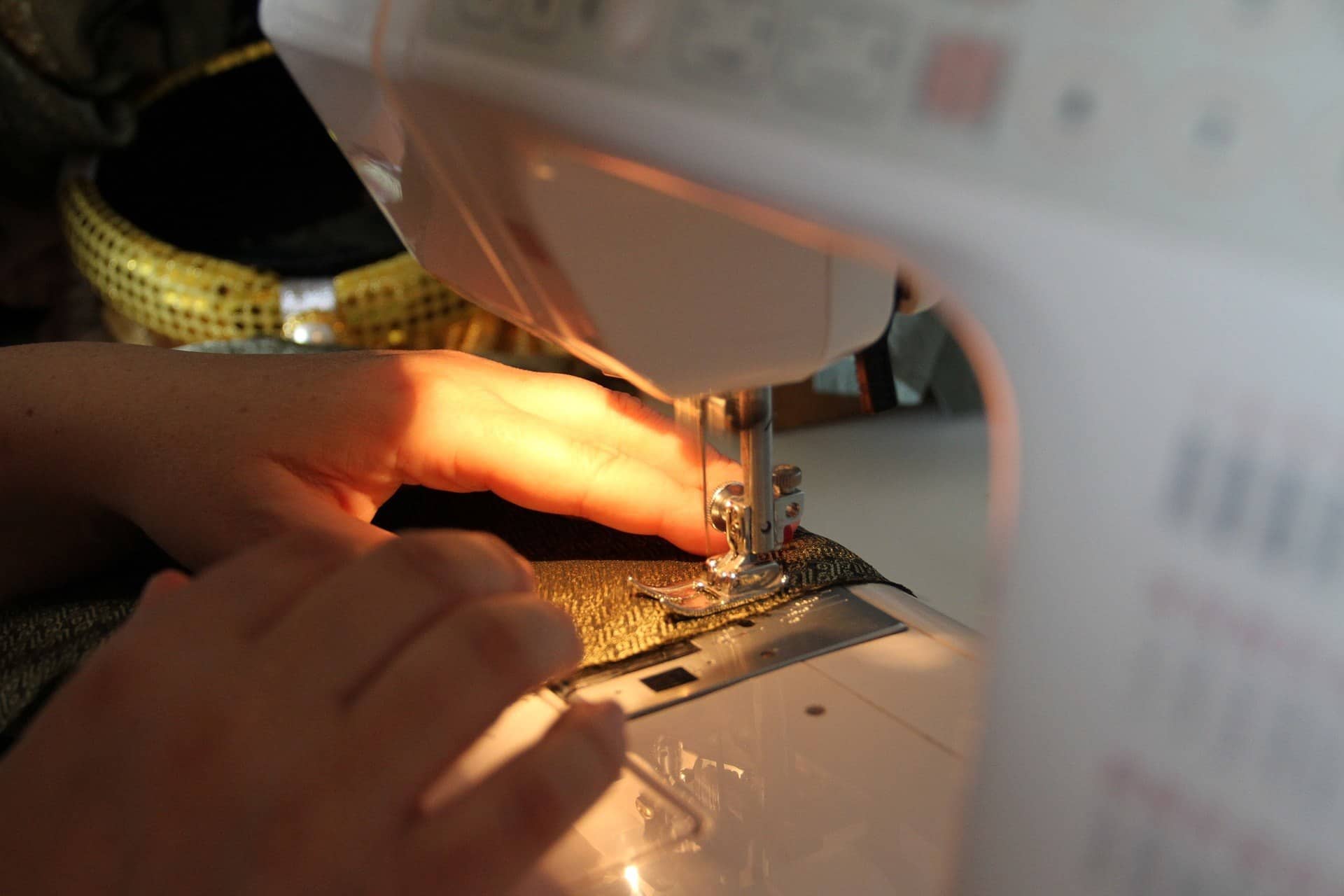 Now that you know about the different types of machines and the factors that determine price, there is still a bit more to do before you can make your final decision. Below are some questions to ask yourself to help you select the best machine.
1) What type of projects will you be sewing?
This might seem like a common-sense question, but it is incredibly important. Not all machines work for all types of projects. This means that you need to consider what types of projects you will be doing.
Do you want to make clothes, and blankets, as well as having the ability to repair fabrics? If so, then a more traditional automatic or computerized machine is likely to suit your needs just fine.
Is your intention to do fine embroidery or make quilts for friends and family? If so, then a regular one is not likely to have the functionality or the ability to handle robust projects.
For more specialized projects, it is important that you buy a specific type, such as an serger or a quilting machine.  If you sew lots of heavy materials, you may want to think about a sewing machine for leather or similar.
2) How many options should the best sewing machine for me have?
Some sewing machines are quite basic, whereas others are downright complicated. Chances are, what you need probably falls in the middle, but it is something that you should keep in mind when looking at a particular model.
Some have limited functionality. They are designed for light use, typically for beginners, and do not have all the bells and whistles of more advanced counterparts. These are perfect for a newbie or child as they are not likely to require an in-depth understanding of all the different functions and design parameters.
The lack of options is not likely to suit advanced users, so keep that in mind if you are an experienced seamstress.  More advanced machines that have a wider range of settings will be more attractive to these users.
Advanced users understand the terminology, and the nuances behind the different types of stitches and design parameters. A beginner would probably just be confused by all the choices and get frustrated.
The ideal number of features and options depends on the user and is something to take into consideration as it will definitely effect the price.
3) What is the weight of the sewing machine?
If you plan on moving your machine often, you will want to get something that isn't too heavy and is portable.
In general, the older the model, the heavier it is likely to be. Antique machines are beautiful to look at, but a big pain to move around 🙂
Even modern machines vary widely in size and weight.
Measure your table or space where you plan to sew and make sure your machine will fit.  You will want to have some extra room as well to store your scissors and other tools.
Most manufactures will provide the dimensions and weight by model.  You can check out my page on the best portable sewing machines to guide you in the buying process.
4) How fast can it sew (stitches per minute)?
Sewing machines can be run at a variety of different speeds, allowing you to make quick work of a project or to slow down for accuracy. Many machines have a foot pedal, which allows you to use pressure to help determine the speed of the stitching.
However, there are some computerized and specialty machines that allow you to set your own, sometimes extremely fast, speeds. If you want a range of functionality when it comes to speed of the stitch, keep this option in mind.
Some machines are better suited for fast speed sewing than others. There are even machines that are expressly designed for high-speed stitching.
Industrial models are usually the fastest, but they also generally have a fairly steep learning curve and are not recommended for beginners. There are consumer models that are designed for high-speed sewing as well, but none that can match the speed of an industrial machine.
5) Is the machine above or below my sewing skill level?
Sewing machines are not one size fits all. Different machines are better suited for those at different skill levels. Some machines have more features and settings that are designed for sewers with advanced skills and understanding.
On the other hand, some machines are designed for beginners, meaning that a lot of the basics will be preset and there won't be a lot of options to limit confusion.
Automatic's tend to be the best general or all-purpose option for beginners. They have generally have a large range of functionality, but they do not have all the bells, whistles, and settings that a computerized machine has.
Computerized models provide enhanced control and personalization, allowing more advanced users to create more complex designs.
6) Is the brand or model easy to use?
You should expect a bit of a learning curve with any new machine you purchase. However, some are more user-friendly than others. Some have an easy to use interface that guides you through selecting the proper parameters and options.
Other machines are designed for those who are a bit more tech savvy. These machines have a less user-friendly interface and more complex menu system for advanced users.
You can usually tell how easy the model is to use by reading the sewing machine reviews. This gives you a good idea as to the actual experience of people who have bought the machine.
7) Is my sewing machine loud?
Not all sewing machines are quiet and, as a rule, the more heavy duty it is, the louder it is likely to be. This is not always the case as there are powerful machines that are specifically designed for quiet operation.  These machines are generally pretty expensive.
Noise is a concern for a variety of reasons. Maybe you need to keep your machine in an area where your family members sleep and you don't want to keep people awake at night. You also should consider your own hearing as well, since we know that extended exposure to really loud noises can permanently damage our hearing.
Modern machines are not nearly as loud as antique machines. There has been a lot of improvement in motor technology that allows for a smoother and thus quieter operation.
If you live in an apartment or somewhere that noise in an issue, be sure to look at the sound specifications to ensure that you won't be bothering your neighbors.
8) How many built in stitches do I need?
Built in stitches refers to the pre-programmed library of stitch parameters that are included. Some machines come with just a few basic stitches, whereas others have hundreds or more.
An important decision when narrowing down the models you are considering is to decide how many built in stitches you want or need. A beginner might not need hundreds of different choices, but an advanced user will most likely want a larger selection.
One thing to keep in mind is that the built in stitches included with your machine is a set number. Additional stitches cannot be added to or programmed into many sewing machines unless you have a very expensive, top of the line model.
In the end, what you plan to use the machine for will determine the number of built-in stitches you will want. If you have a very specific purpose, fewer are needed. If you want to use your machine for a broad range of projects, more stitches make this possible.
9) How many sewing accessories are included?
The actual sewing machine does not often include everything you might want or need to get started. This is why it is important to look at the accessories that are included and which will have to be purchased separately.
Some machines come with pedals or foot switches and a variety of attachments.  Some companies only supply the machine, and accessories will have to be purchased separately. This can add a lot to the final price tag to get started, so make sure you check to see what is included.
10) How long is the sewing machines warranty?
Sewing machines are expensive.  You want to make sure you are covered if something breaks or goes wrong.
It is important to check the warranty that comes with the machines you are considering. In addition to finding out how long the warranty is, you will also want to understand what is coveted.  The best sewing machines have a long warranty and lifetime customer support.
There are very basic, often short term warranties that mostly cover manufacturer defects.  There are also more comprehensive warranties (sometimes these can be bought as an add-on at time of purchase) which will even cover user error.
When you spend hundreds (or thousands) of dollars on a sewing machine, you want to make sure that your investment is protected. Most sewing machines come with at least a 1 year limited warranty and some come with a lifetime warranty, so add that to your list of items to compare.
Sewing Machine Reviews
Singer 4423 Heavy Duty Sewing Machine – Editor's Choice
Why You Should Buy It: The Singer 4423 is an excellent all purpose, heavy duty machine ideally suited for an array of projects.
PROS
Heavy duty
Lots of auto options
Durable and well built
CONS
Only 23 built in stitches
Not suitable for leather
Singer is a trusted and well-known brand that has been around forever and highly recommended. Their 4423 is an excellent general purpose, robust sewing machine that can handle a ton of different projects.
The machine is well built and machined from stainless steel. It is powered by a robust and powerful motor. It has a variety of features that give it versatility and durability.
The 4423 features 23 different stitches, ranging from basic to specialized like the buttonhole. The needle is automatically threaded, eliminating frustration of threading. The drop-in bobbin makes it easy change the thread when needed.
The motor is powerful, boasting that it is as much as 60% stronger than comparable models. It is a high-speed machine that can sew 1,100 stitches per minute. This is perfect for those who want the ability to do fast projects.
Many machines have problems in construction that lead to fabric bunching.  The 4423 has a stainless steel bed plate, which allows the fabric to slide easily across the arm, reducing the likelihood of bunching.
The 4423 has an easily changeable foot pedal so that you can use the pedal that comes with the machine or you use your own. The pedal is pressure adjustable, meaning that you use foot pressure on the pedal to speed up or slow down the speed.
The 4423 features on board storage which allows you to conveniently store accessories and other bits and bobs with the machine.
Many people consider the 4423 to be the best sewing machine on the market for all users.
Brother cs6000i Sewing Machine with Wide Table
Why You Should Buy It: A versatile computerized sewing machine that comes with a wide base table for enhanced functionality.
PROS
60 built-in stitches
Electronic variable speed control
Free arm for collars and other curved pieces
CONS
Can be confusing to operate at times
All accessories are not included
Brother International is a reputable and time-honored company that is known worldwide for making high-quality home products from printers to sewing machines. The cs6000i is a computerized model with a broad range of features and functionality.
This machine has 60 stitches, including many specialty and advanced ones. It has an automatic needle threader and bobbin winding system for easy setup and thread replacement.
The cs6000i has electronic variable speed control, giving you precise control over the sewing speed of the machine. It can be operated at a relatively high speed – as much as 850 stitches per minute. It is easy to use and has a LCD display and a LED lit work area.
The table is oversized, making it perfectly suited for small and large projects.
The cs6000i features built in storage to allow you to store accessories in the machine itself easily. Specialty feet are included with this machine, but additional accessories that advanced users may want are not included
Singer 4411 Heavy Duty High Sewing Speed Sewing Machine
Why You Should Buy It: An affordable, durable, heavy duty sewing machine that offers a range of features and functionality.
PROS
High-speed stitching
Powerful motor
Durable design
CONS
Only 11 built in stitches
Not suitable for leather or other super heavy fabrics
The 4411 is another high-quality sewing machine from the Singer brand. This is an automatic model that is powerful, well designed, durably built, and perfect for the beginning to intermediate sewer.
The machine is made from a tough metal frame and has a stainless steel bedplate and a motor that is up to 60% more powerful than comparable products.
Convenience features such as a top drop in bobbin, drop feed, and auto tensioner makes sewing a lot simpler compared to competing models.
The 4411 features 11 built-in stitches, including a few specialty like buttonhole. It is also incredibly fast and can sew up to 1,100 stitches per minute.
The snap-on presser feet are extremely easy to change and install, and the machine features adjustable pressure foot pedals. The free arm helps to make sewing collars, cuffs, and other curved pieces simple.
The machine can be used in 3 needle positions and offers more clearance at the foot pressure to account for bulky or thick fabric. It also has on board storage for added convenience.
Brother XR9500PRW Project Runway Edition
Why You Should Buy It: Limited Edition computerized sewing machine with a vast library of stitches and added features.
PROS
100 built-in stitches
Affordable price
Can be used for monogramming
CONS
Not suitable for leather
Intermediate to advanced skill requirements
Another high-quality offering from Brother International, the XR9500PRW is a special edition that has a ton of features and enhanced functionality, as well as a durable, reliable build and design.
This is a highly versatile machine that features 100 different stitches, including a variety of specialized buttonhole choices. This machine is suitable for a range of projects from clothing to home decor.
It has 140 different stitch formations and a free arm for easy sewing of collars, cuffs, and other curved pieces. It features an adjustable needle position button and a LED work area light to help see the finer details.
It has several added convenience features, such as an automatic needle threader, drop-in top bobbin that is resistant to jams, as well as on-board storage and a hard cover.
Singer 4432 Sewing Machine
Why You Should Buy It: A heavy duty automatic machine that offers increased functionality and is perfect for intermediate users.
PROS
32 built-in stitches
Easy to use
Included convenience features
CONS
Limited customization
Similar in price to computerized models without added functionality
The 4432 is quality product from Singer. This is a great intermediate level sewing machine as it provides an excellent blend of enhanced features and ease of use.
The 4432 has 32 built in stitches, giving you a variety of choices for tons of different projects. The included stitches even contain specialty ones like buttonhole. The machine features and automatic reverse and allows for easy adjustment of stitch length and width.
It features a free arm for easy sewing of curved surfaces and an extra high presser foot lifter to give you more clearance for bulky material. It features adjustable foot pressure speed control as well as on-board storage.
Brother HC1850 Computerized Sewing Machine
Why You Should Buy It: A good all-purpose machine for intermediate to advanced skill levels with lots of options.
PROS
130 built-in stitches
Wide table for the ability to sew larger items
25 year limited warranty
CONS
Not suitable for leather
No free arm
The HC1850 is a highly recommended computerized sewing machine that meets the needs of intermediate to advanced users
The machine has many different options and convenience features that allow you to easily customize your projects and keep everything organized.
The machine boasts 130 included designs, including multiple styles of buttonholes. The machine can also monogram and has 170 different stitch functions. It also comes with a flip chart that makes it easy to see all the different stitches built into this model.
The HR1850 features a detachable wide table, allowing you to convert the machine for larger projects easily. It has a LED display and several added convenience features such as automatic threading, drop-in bobbins, and an enhanced feed system.
The HC1850 can be used with or without a foot pedal, giving you, even more, options for how you wish to operate the machine. It comes with an instruction manual and DVD and features a 25-year limited warranty.
Singer 9960 Quantum Stylist
Why You Should Buy It: A high-end sewing machine with enhanced functionality for the advanced user.
PROS
600 built-in stitches
Buttonhole underplate
Tons of options to meet the needs of specific projects
CONS
Designed for more advanced users
More expensive than competitors
For the advanced sewer who wants a powerful machine that is suitable for a wide range of projects, the 9960 is an excellent choice. This is a high end computerized sewing machine that has in-depth customization that allows advanced users to create complicated pieces.
The Quantum Stylist features an incredible 600 built in stitches and advanced capabilities enabling it to be used even for quilting. The heavy duty design gives it the strength and power it needs to handle even the most complex of projects.
There are a ton of different convenience features like an automatic needle threader, automatic stitch length and width adjustment, needle up/down button, and more.
It comes with a buttonhole plate for a variety of specialized stitches. It also includes an extension table to allow you to work on larger projects easily.
It features a large, bright LCD display screen and comes preprogrammed with 5 different alphabet styles for easy monogramming. The machine has 25 different needle settings, and can be set up for twin needles.
It is a high-speed machine that has fast, error free threading. It comes with a full range of accessories included, meaning you don't have to buy a bunch of additional items before you can use it.
Brother XM2701 Lightweight, Full-Featured Sewing Machine
Why You Should Buy It: Good, robust sewing machine that is affordable and designed with beginners in mind.
PROS
Easy to use
Automatic threading
27 built-in stitches
CONS
Limited functionality
Not suitable for heavy duty fabric
Brother International is known for making high-end, advanced sewing machines, but they also make several models that are ideally suited for beginners.
The XM2701 is an affordable, easy to use, automatic model that is tailored for the beginner to intermediate.  It has a vast range of features that makes it easy to work on a variety of projects and customized pieces.
The machine features 27 stitches and includes specialty stitches like buttonholes. It boasts 63 stitch functions, making it suitable for projects ranging from clothes to home decor.
It has a simple needle threading system and a jam resistant top drop in bobbin to make getting your machine threaded and ready to go quickly. It features a LED light to help illuminate your work with less eye strain.
Singer 7258 Computerized Sewing Machine
Why You Should Buy It: A high-end model with tons of features and customization options for the advanced user.
PROS
Push button stitch selection
100 built-in stitches
Many convenience features
CONS
Not suitable for use with materials like leather
Stitch selection system can be a little confusing
The Singer 7258 Quantum Stylist is an award winning, high end computerized sewing machine with enhanced functionality and built with the more advanced user in mind. It has a number of convenience features and allows for easy customization.
The machine features 100 built-in stitches, giving you an excellent range of different types of stitches.  It includes basic stitches, those for quilting, and even heirloom stitches. You can quickly select your desired stitch using the simple push button selector.
The 7258 features auto tension and other settings that make adjustments painless. It also features an automatic presser foot and a bobbin winding clutch needle bar that makes winding safer.
The 7258 has speeds that max out at 750 stitches per minute. Is has on-board storage, and all needed accessories are included.
Brother XM1010
Why You Should Buy It: An affordable, easy to use beginner's sewing machine with enough functionality to be suitable for a range of different projects.
PROS
Affordable
Easy to use
Lightweight
CONS
Only 10 built in stitches
Not suitable for thicker or tougher fabrics
As a beginner's or an affordable model for everyday use, the XM1010 is an excellent choice. It is lightweight, portable and includes a variety of features for versatility.
The machine includes 10 built-in stitches, including buttonholes. It comes with four different sewing feet and a free arm, which allows for easy sewing of collars, sleeves, cuffs, and more.
It is easy to thread and has jam resistant bobbin system to reduce issues with threading and sewing. The XM1010 is an automatic machine that allows you to control tension easily and to reverse stitching with the use of a dial.
The machine is sturdy, portable, and comes with an instructional DVD to provide in-depth use instructions.
Conclusion
Sewing is a relaxing and rewarding hobby that can be functional and practical, or purely for fun. Finding the top sewing machine depends on several objectives, ranging from skill level and style of projects you plan to work on, to versatility and more.
In this buying guide, we have given you a basic overview of the main style of machines available as well as considerations you'll want to think about before making a purchase.
Finally, we provided brief reviews of 10 to machines (sorted by brand and model) that cover a range of uses and skill levels.  We feel that these give you a good idea of the features of machines and the users they best suit.
Whether you choose one of the models that we reviewed here, or you simply use this as a starting point for finding the perfect machine, you are now armed with the information you need to make an educated decision.
Happy sewing!