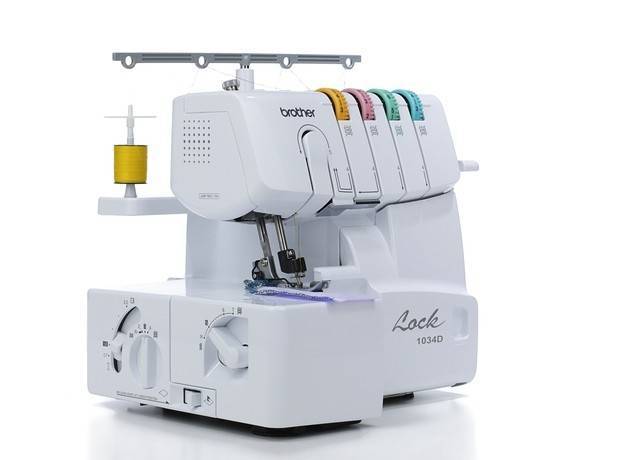 Features:
​​​​​The ¾ thread serger provides a professional quality edge on a plethora of different fabrics.

This machine has 22 different built-in stitches and an accompanying 4 thread overlock.

The upper and lower looper threading is numbered and color coded for ease of use.

Two snap-on feet and a foot controller are included with the sewing machine.

This machine is covered by a 25-year warranty from the manufacturer.
Introduction
What makes the Brother 1034D Sewing Machine stand out from among its competitors is that it's also a serger. A serger is a special type of sewing machine that is designed to offer a professional quality hemming and edging for a variety of different fabrics. Although having a serger is not a prerequisite for turning out lovely garments, once you experience what it has to offer, you'll wonder how you were able to get by without it. The capabilities of this machine can be expanded by purchasing additional accessories.
For all that it has to offer, the Brother 1034D (see today's price on Amazon) is economically priced, and it has performed well in both professional and consumer written reviews. Now that we've piqued your interest let's dive into the details! 
Pros
Includes a serging instructional video plus bilingual printed manual

Free phone support for the product lifetime

Includes an on/off adjustable knife feature
Cons​
Before it can be used for the first time, the sewing machine must be oiled.

The switches to alter the length and width of the stitches can be difficult to adjust.
Product Description
Although the Brother 1034D does not thread itself, it's easy threading system does make it simple to get the hang of the process. The lay-in threading is numbered and color-coded, and easy to follow pictures clearly lay out each step. This machine is accompanied by a built-in guide that will take a new user clearly through each step. The instruction manual is well-written and includes instructions in both Spanish and English. There is also a serging instructional video included. One of the handiest features that this sewing machine has to offer is a differential feed. Being able to adjust the feed as you go is particularly useful when you're working with stretchy or knit fabrics. In fact, one of the reasons why the Brother 1034D is so popular is the fact that it can be used with a wide range of materials – from silk to denim to jersey knit and back again. Unlike other serger models currently on the market, this one has a removable arm that is useful when it comes to working with sleeves and/or pants legs. Another notable feature of this machine is its retractable knife blade. The blade can be used to trim fabrics down before hemming, which provides a clean edge and professional finish. When it is not needed, the blade retracts directly into the machine in order to prevent accidental injury. Many reviewers have commented that this is a feature they use quite regularly.
This sewing machine comes with 22 different built-in stitches. With the two presser feet that are included with the machine, it can perform four thread overlock, three thread overlock, rolled hem, narrow hem, and ribbon lock stitches. Brother offers a variety of extra presser feet (at an additional cost), which enable the machine to do blind hemming, pintucks, and flatlock stitches. The Brother 1034D is accompanied by a wide range of accessories, including a gathering foot, a soft cover, and a foot controller. An accessory bag with a needle set, tweezers, additional spool nets, a Hexl wrench, trim trap, and cleaning brush is also included. A few users have complained that this machine does not come with a hard cover (necessary for traveling), but one can be purchased through the Brother's website. This sewing machine is covered by a 25-year warranty from the manufacturer, and free technical phone support is provided over the course of the machine's lifetime. 
Final Thoughts
New sewers who want to invest in a serger, but do not want to spend an arm and a leg, will find exactly what they are looking for in the Brother 1034D. Most reviewers have been using their model for many years. From baby blankets to adult clothing, it can be used to tackle a wide variety of projects. With its simple and straightforward design, it will make an excellent addition to any sewer's arsenal.