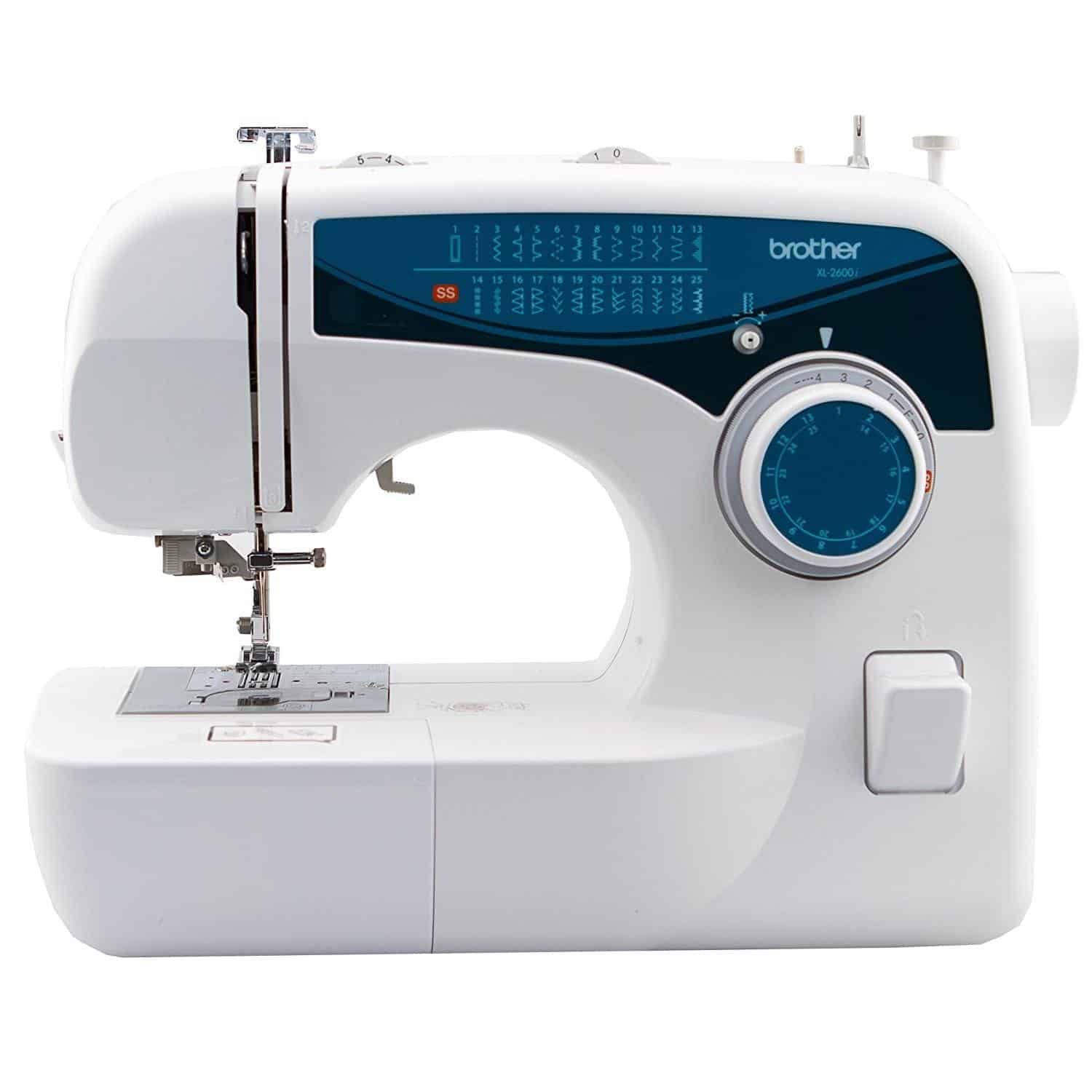 Features:
​​​​​This sewing machine has a free arm, which is ideal for quilting and crafting projects.

Each of the 25 built-in stitches has multiple functions.

The Brother XL2600i comes with 5 unique presser feet, and accessory storage is built into the free arm.

A bright LED light bulb offers extra illumination around the workspace.

The automatic, one step buttonhole makes it simple to create uniform rows of buttons.
Introduction
Those who are new to the wonderful world of sewing often find purchasing their first sewing machine to be a confusing process. With an endless number of features and options to choose from, it is easy to become bogged down with choices. For beginners, it is recommended that things be kept simple at first, and this is what makes the Brother XL2600i Sewing Machine (see today's price on Amazon) an ideal choice. 
Priced at the lower end of the spectrum, it offers all of the benefits associated with the trusted Brother name without costing an arm and a leg. Although simple in design, it is rich in features and readily portable. Read on to find out more about what this model has to offer!
Pros
​​​​​It is an affordable option for beginners.

Selecting the stitch one wants to use is as simple as turning a dial.

This machine comes with a wide variety of accessories, including a darning plate and extra spool pins.
Cons​
The user's manual can be confusing to follow at times.

The machine's overall design may be too simple for intermediate to advanced sewers.
Product Description
The Brother XL2600i Sewing Machine is, because of its simple and straightforward design, is the perfect choice for beginner sewers. It offers a wide selection of basic and decorative stitches and is accompanied by an industry-leading warranty. Each stitch pattern is clearly displayed on the selector dial located on the front of the machine. Other highlights of this model's design include:
​​​​​A drop in, jam-resistant bobbin

An automatic, one step buttonhole option

Simple to follow threading instructions printed on the front of the sewing machine

A quick and simple bobbin winder
In terms of dimensions, the Brother XL2600i measures 12.3 x 7.7 x 9.6 inches and weighs in at just over 11 pounds. This makes it easily portable when a user needs to move it. In addition to being ideal for basic mending and sewing, its features make it recommended for arts and crafts projects. This machine will enable beginners to expand their sewing skills and indulge in creative exercises. This model is operated via a simple foot pedal, and an LED light bulb offers complete workspace illumination.
The XL2600i offers 25 unique built-in stitches to choose from. There are options for garment construction, decorative stitches, quilting stitches, and the buttonhole feature. A highlight of this model is that it offers three beautiful heirloom stitch options, which can be used for appliques, monograms, and embroidery.
Reviewers have enjoyed the fact that this model comes equipped with so many extra accessories. This list includes:
Five presser feet (buttonhole, zipper, button sewing, narrow hemmer, and blind stitch options)

A screwdriver

Extra bobbins

A needle pack

Extra twin needles

Extra spool spins

A darning plate
Other accessories can also be purchased directly from Brother as needed. Storage for all of these accessories can be located in the free arm of the sewing machine. Included in the extras is a bilingual user's manual, which is written in both English and Spanish. A small number of reviewers have found the user's manual to be difficult to follow; however, there are a number of easy to follow YouTube tutorials that can be used to smooth the learning curve.
The model is covered by a 25-year limited warranty from the manufacturer and is considered to be one of the best brother sewing machines on the market.
Final Thoughts
Brother has earned its reputation as a leading purveyor of state of the art and innovative products for the home sewing market, and the Brother XL2600i (see today's price) is another excellent addition to their product line. Beginners who are looking for a simple sewing machine that can be used to cover a wide variety of sewing projects will enjoy what this model has to offer. Between the range of features, it offers and its portability factor, this sewing machine is a sound investment.