The presser foot is an integral part of nearly any sewing machine. Whether you're creating fancy, intricate stitches on your fabric with your sewing machine or simply sewing straight lines, the presser foot makes the process considerably more manageable. 
However, although the presser foot seems essential, you don't technically need it to sew. Contrary to what some may think, you can sew without a presser foot. How? We're here to talk about this topic's specifics, so continue reading to learn more!
What Is A Presser Foot?
Before we get started, let's establish a clear base. If you're familiar with sewing, you probably know the ins and outs of your sewing machine, including its presser foot. However, if you're new to sewing, you might not know what the presser foot is. 
So, just to make sure we're all on the same page: the presser foot is the accessory connected to the ankle of the sewing machine. It helps keep the fabric flat while the feed dogs push it through the machine.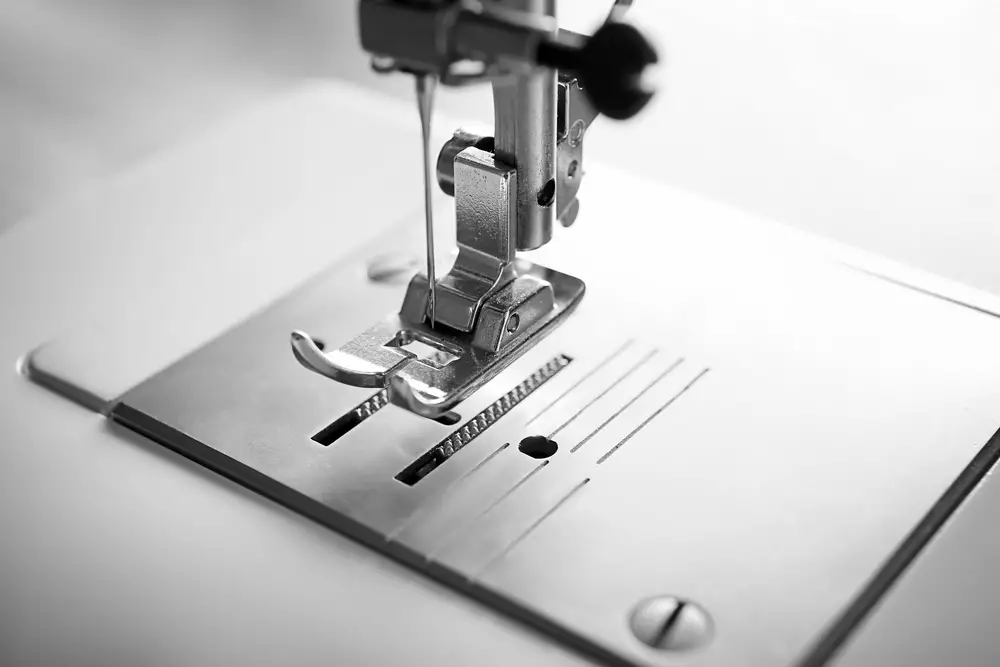 The presser foot holds the fabric in the right place while you sew, which allows you to quickly work on nearly any type of fabric, including cotton, wool, jeans, vinyl, plastic, etc. The most common types of presser feet include:
Straight foot
Zipper foot
Zigzag foot
Satin food
Clear view foot
Darning foot
Walking foot
Button foot
Free motion foot
When you buy a new or used sewing machine, you'll probably get a standard or zigzag presser foot. These two types are the jack of all trades and can effortlessly handle standard and decorative stitches. 
Of course, there are other scenarios where you'll need a different presser foot to handle the project effectively, but a standard or zigzag foot will do the trick in many cases.
Do I Need A Presser Foot To Use My Sewing Machine?
No – you technically don't need a presser foot to use your sewing machine. Although the presser foot is often essential for achieving a neat, beautifully stitched result, it isn't mandatory. You can even do most decorative stitches without a presser foot. 
That said, most people need quite a bit of practice to create beautifully-sewn results. So, we wouldn't recommend practicing sewing without a presser foot on an expensive project. Instead, start practicing on a less-important project or pieces of scrap fabric.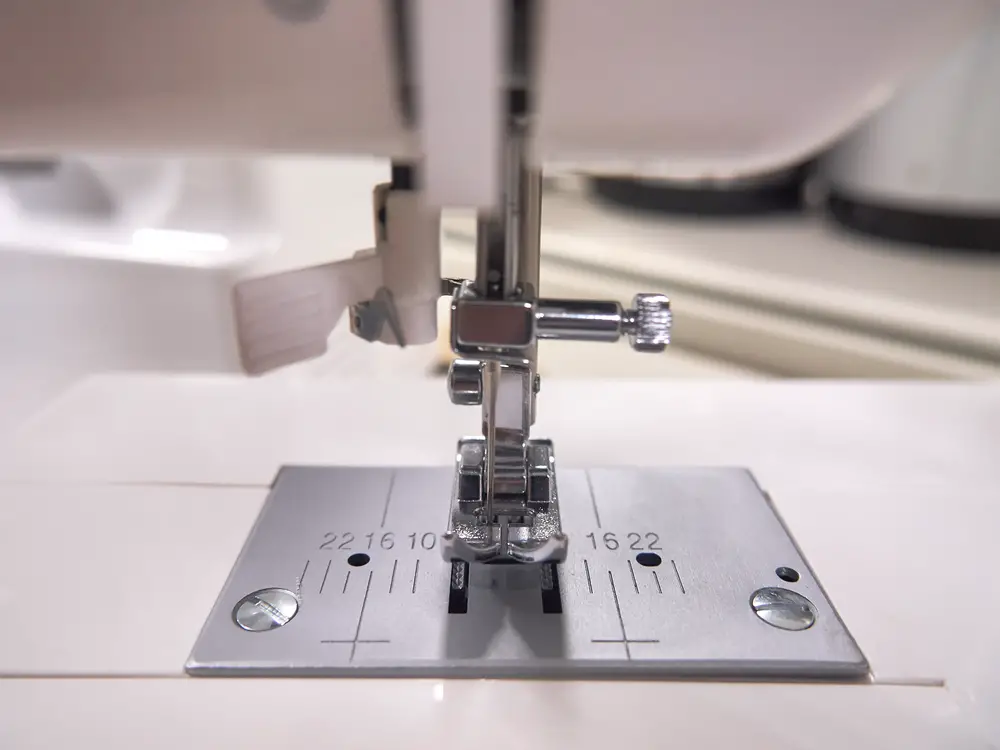 While sewing two pieces of fabric together to create a straight seam is relatively simple without a presser foot, it will still take a fair amount of practice. If you want to sew fancy decorative stitches without a presser foot, you'll likely need to be familiar with free-motion sewing to achieve a great-looking result.
How To Sew Without A Presser Foot
Nowadays, sewing machines are available in a range of designs. Some models feature advanced bells and whistles, whereas other models are cut and dry with the essentials. So, because there is so much variation in sewing machines, giving specific instructions is tricky. 
Some machines may not work well without a presser foot, while others may do just fine. You might be able to utilize free-motion sewing, which means you can sew without the presser foot at all. If you decide to try free-motion sewing, be careful while feeding the fabric into the machine, as the needle could easily catch your finger. 
We recommend starting with slow, careful stitches before picking up speed. This way, you can develop a technique that works for you and your project. 
Frequently Asked Questions (FAQs)
What Else Can I Use Instead Of A Standard Foot?
Many sewing machines come with a standard presser foot. If you don't like this type of presser foot, there are plenty of alternatives to replace it. While you could attempt to sew without a presser foot altogether, that will take some time to develop a technique.
With some practice, you may find that you prefer free-motion sewing. However, if that isn't your cup of tea, we recommend choosing a different style of presser foot. There are numerous other options, each with a slightly different design and purpose. 
For example, some sewing machines feature the basic walking foot, which allows you to easily sew straight lines and certain decorative stitches. This type of presser foot is larger than regular presser feet and typically features a higher price tag. 
Are All Sewing Machine Feet Universal?
No – not all sewing machine feet are universal. Some sewing machine brands, including Brother, Babylock, Bernina, and Husqvarna Viking, have brand-specific feet. In addition, you should avoid using generic, run-of-the-mill sewing machine feet on high-end sewing machines. 
Instead, use a presser foot designed for that particular sewing machine or brand. 
Will A Sewing Machine Presser Foot Fit All Sewing Machines?
This question is very similar to the last one, but we decided to split them since they answer slightly different things. Sewing machines feature varying designs: some have long shanks, while others have short shanks. 
Some machines are designed to work with snap-on presser feet, which won't work on long, short, or slanted shanks. It's important to choose a presser foot that is compatible with your particular sewing machine. 
While it's not the end of the world if you have to return the presser foot for a different option, it's a drag when you have to put off your project further to wait for the correct presser foot. So, do yourself a favor and double-check the compatibility between the two before you buy the new foot.